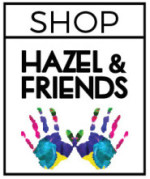 Fashion with Compassion
Debbie Martin Designs Unveils New Scarf Line Created by Children with Disabilities to Benefit Children's Charities & Genetic Research
October 15, 2015 New Hope, PA – Fashion industry veteran Debbie Martin, who founded a scarf line brand named Debbie Martin Designs in 2014, has announced the creation of Hazel & Friends — a new scarf line created by children with disabilities to benefit children's charities and genetic research. Inspired by her eight year-old niece, Hazel Shaw, who is missing a part of her ninth chromosome, leaving her in a wheelchair and using a communication device to speak, Hazel & Friends utilizes the designs of children with disabilities on scarves to raise funds to build playgrounds and support genetic research.
During a recent family visit, Martin was finger painting with Hazel when she became inspired to incorporate Hazel's artwork into scarves. "I thought, wow, these could be really be beautiful scarves and we could take the proceeds of what we sell and give it to charity to build playgrounds for special needs children and to fund genetic research," Martin said. A few weeks later she had shipped a design from their finger painting session off to a factory that she works with, designed a logo, and Hazel & Friends was born. Twenty percent of all sales from the line will be donated to charities.
The fist scarf designs will be available in November on www.DebbieMartinDesigns.com, at Bucks County Dry Goods locations in Lambertville and Princeton, New Jersey, along with a variety of upscale retailers around the U.S. and on websites including www.uncommongoods.com and www.fab.com.
The idea of working with children with disabilities is not new for Debbie Martin Designs. Earlier in 2015, Martin met Mack Ford — a Pittsburgh child with Down Syndrome, and utilized one of Ford's designs on a scarf. "I was energized by my endeavor with Mack, and I am taking that inspiration and creating a new brand to help as many children as we can help. When I saw how successful Mack's scarf sold, I realized that I can build a scarf line that is entirely created by children's designs to raise funds to help children.
"Introducing this new collection with my niece to benefit children with disabilities is the perfect example of how I was destined to do this," said Martin. "After all the jobs I've performed for so many successful fashion designers and retailers, I feel that Debbie Martin Designs is the culmination of one significant journey and the beginning of another. I was fairly certain that I found my calling when I launched the company, but introducing our new Hazel & Friends line has provided me with immense joy and unparalleled satisfaction.
Launched in 2014, Debbie Martin Designs is quickly becoming a force to be reckoned with in the fashion industry. Debbie Martin Designs' scarves are available for sale in 48 states, on several websites and can be seen in showrooms in New York City and Los Angeles. The company partners with mills to produce designs on natural fabrics ranging from cashmere, wool, silk and cotton blended with Model/Rayon.
We are always looking for more designs for Hazel & Friends scarves.   Scroll down to learn more on how to submit a child's artwork to be considered for a Hazel & Friends scarf.
[abcf-grid-gallery-custom-links id="420″]
In addition to supporting our Hazel & Friends line, you can also make a donation to support Hazel's Hope, a 501(c)(3) whose mission is to improve the lives of children with genetic and movement disorders through genetic research and increased access to adaptive equipment and playgrounds. 100% of the funds donated here will be given directly to Hazel's Hope.